PRO Marking Crayon
General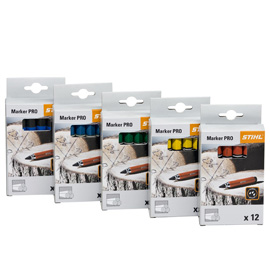 For dry and moist wod. Excellent colour results thanks to strong pigmentation, as well as optimum resistance to weather and light. Good breaking resistance. Length 12cm. 12 per pack.

Details:
AQUA, DISODIUM METASILICATE, COCOAMIDOPROPYL BETAINE, SODIUM DIETHYLENETRIAMINE PENTAMETHYLENE PHOSPHONATE.

Weitere Informationen (http://ec.europa.eu/consumers/cosmetics/cosing/)
Über diesen Link werden Tabellen mit der Entsprechung zwischen den INCI - Bezeichnungen, den Bezeichnungen des Europäischen Arzneibuches und den CAS - Nummern bereit gestellt.

Versions
Price
Marking Crayon, Black - 12 pk. $22.25 *
Marking Crayon, Yellow - 12 pk. $22.25 *
Marking Crayon, Green - 12 pk. $22.25 *
Marking Crayon, Red - 12 pk. $22.25 *
Marking Crayon, Blue - 12 pk. $22.25 *
Prices valid from 1/11/16 to 31/12/16.
STIHL stores are operated as independent businesses. The products described in this website may not be on display or available at each STIHL store. STIHL reserves the right to change pricing at any time without notice.

The version(s) available in each country may differ from the above range and specifications; specific details may be subject to change without notice. Please ask your local STIHL Approved Dealer for further information.